City of Albany joins the Compact of Mayors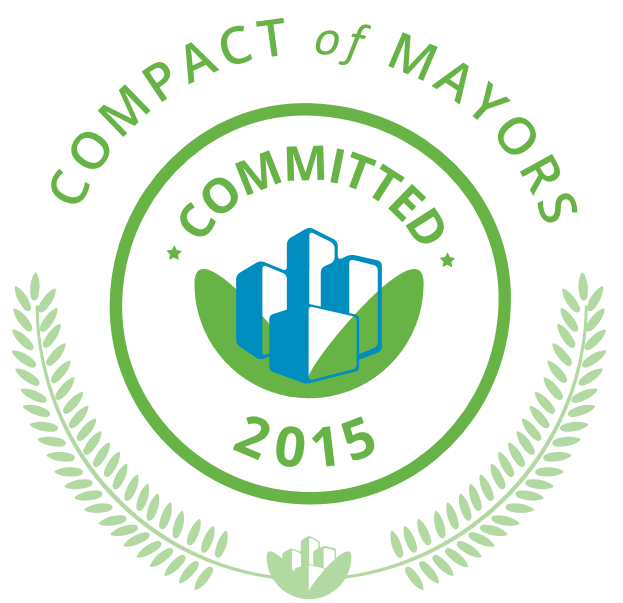 Albany Mayor Kathy Sheehan is proud to announce her commitment to the Compact of Mayors, a global coalition of mayors and city officials pledging to reduce local greenhouse gas emissions, enhance resilience to climate change, and track their progress transparently. Launched at the 2014 United Nations Climate Summit, the Compact of Mayors is the world's largest coalition of city leaders addressing climate change by pledging to reduce their greenhouse gas emissions, tracking their progress and preparing for the impacts of climate change. Find Albany on the global map of committed cities here.
City of Albany Energy Plan Released
The Albany Energy Plan
is a strategic plan to reduce the City's energy use and related greenhouse gas emissions in a cost-effective manner while ensuring reliability and resilience. The finished plan, which was developed over a year of in-depth analysis and multiple stakeholder meetings, provides a comprehensive approach to energy use reduction and management, both within municipal operations and city-wide.
STAR Communities
STAR Communities announced that Albany has been awarded a 3-STAR Community Rating for national leadership in sustainability. In June of 2014, the city became the 11th in the nation to receive recognition from STAR Communities, which evaluates the livability and sustainability of U.S. communities. STAR Communities is a national leader in rating sustainability efforts of cities, towns, and counties; its national ratings program helps communities evaluate themselves in seven areas related to sustainability, such as "Climate and Energy," "Built Environment," and "Economy and Jobs." Several efforts stood out among Albany's sustainability initiatives: business retention and development, targeted workforce development initiatives, green infrastructure and innovative historic preservation programs. "Albany should be applauded for its commitment to sustainability, and for the clarity and transparency provided while achieving its goals," said Halari Varnadore, executive director of STAR Communities.
Climate Smart Communities
The City of Albany is one of the first six municipalities in New York to achieve certification as part of the state Climate Smart Communities (CSC) Program, which is designed to support municipal efforts to meet economic, social, and environmental challenges posed by climate change. New York is addressing the real threat of climate change through programs designed to curb greenhouse gas emissions, increase energy efficiency and develop renewable energy. Albany was rewarded the CSC certification in 2014 for its leadership in tackling this environmental challenge.
Sustainability Advisory Committee first public meeting
A newly appointed Sustainability Advisory Committee (established by the Albany Common Council to help foster sustainable behavior and initiatives within the City) is set to conduct their first meeting, Thursday, August 28, 2014 in City Hall (City Court Room) at 5:30 pm. Meetings are open to the public and will take place on the fourth Thursday of each month. Learn more...
Sustainability Advisory Committee releases 2015 Annual Report
The Sustainability Advisory Committee (SAC) released its first Annual Report, which summarizes SAC's recommendations for futhering sustainability initiatives within the City. The report was completed in June 2015. Learn more...
Albany improves, installs miles of bicycle infrastructure
In 2009, the City of Albany initiated its first Bicycle Master Plan. The Bicycle Master Plan is a comprehensive study identifying a network of bicycle routes for improved cycling throughout the City. In 2010, the City of Albany Bicycle Master Plan received an award from New York Upstate chapter of the American Planning Association (APA) for Innovations in Sustainable Places. Since the inception of the plan, the City has improved or installed over ten miles of bicycle infrastructure with more planned for the future.
View a map of the completed routes (Adobe PDF, 740KB)
City of Albany participates in the Capital Region Sustainability Plan

The City of Albany is pleased to announce its participation in the Capital Region Sustainability Plan, a coalition effort to craft a smart growth plan for Albany, Columbia, Greene, Rensselaer, Saratoga, Schenectady, Warren and Washington Counties. This project is part of the Cleaner, Greener Communities program, a major environmental initiative announced by Governor Andrew M. Cuomo last year.
There will be multiple opportunities to participate in person and online, including the first round of public workshops:
Monday, July 23 from 7-9pm, Coxsackie-Athens High School, 24 Sunset Boulevard, Coxsackie
Tuesday, July 24 from 7-9pm, Doane Stuart Commons Room, 199 Washington Ave., Rensselaer
Wednesday, July 25 from 7-9pm, Queensbury High School, 409 Aviation Road, Queensbury
Your participation will help create a regional plan that reflects the values and vision of you and your community. Participants will have opportunities to learn and contribute through a range of options from low tech to high tech, and you will have an opportunity to experience new approaches to meetings that go beyond stale coffee, donuts and talking heads.
You can find information about the process, the Consortium and the project team, and upcoming events on the new website, on the Facebook page, and on Twitter.
City of Albany Announces Sustainable Spring
Mayor Jennings announced today the launch of Albany's Sustainable Spring. Sustainable Spring is a series of sustainability initiatives and events to encourage more environmentally responsible and sustainable behaviors among Albany residents and business owners. "The goal of this campaign is to raise awareness among residents and businesses within Albany and to continue to demonstrate the City's leadership in the region on environmental and sustainability initiatives" Jennings said.
Sustainable Spring will launch with an Earth Day press event on April 19th for the Albany Neighborhood Energy Challenge Kick-off and will include the launching of the Capital Region Sustainability Plan and Albany Green Business Program. Additional events throughout Sustainable Spring will consist of helping clean up Albany's neighborhoods, ensuring the proper disposal of household hazardous waste and educating the public on the environmental and health benefits of biking.
Mayor Announces Launch of Neighborhood Energy Challenge
Mayor Jennings announced today the launch of Albany's Neighborhood Energy Challenge, the first official event of Albany's Sustainable Spring campaign.
Mayor Jennings, along with other Albany residents are challenging each other to make their homes and neighborhoods more energy efficient. "The Energy Challenge is a great way to educate and engage Albany residents in opportunities to save on rising energy costs. I encourage all residents to take the first step with a comprehensive home energy assessment," said Mayor Jennings.
Sponsored by the Mayor's Office of Energy and Sustainability, Albany 2030, the Council of Albany Neighborhood Associations and the Affordable Housing Partnership in partnership with New York State Energy and Research Development Authority (NYSERDA), the Energy Challenge is a competition amongst Albany neighborhoods to complete comprehensive home energy assessments. The neighborhood with the highest percentage of participating homes will receive a neighborhood specific green enhancement provided by the City of Albany. The comprehensive home energy assessments are part of the Home Performance with ENERGY STAR® program, offered by NYSERDA.
"We applaud the City of Albany for its leadership in the areas of energy and sustainability. The Neighborhood Energy Challenge is a great way to engage residents in the Home Performance with ENERGY STAR® program" said Susan Cotner, Executive Director of the Affordable Housing Partnership.
"The City is proud to sponsor such an important event. It is important for Earth Day that we all look at ways we can change our behavior and live a more sustainable lifestyle. This challenge will show homeowners real ways they can make a difference for the environment and save money at the same time" Jennings said.
A comprehensive home energy assessment is:
A top-to-bottom look at the way your home uses energy
Performed by an expert Home Performance with ENERGY STAR® contractor certified by the Building Performance Institute
FREE for most New Yorkers
The gateway to qualifying for cash back incentives, low-interest financing and grants to help you afford improvements to your home's energy efficiency
What homeowners will learn:
If important appliances such as your furnace and hot water heater are safe
Where air might leaking from your home
If your home is properly insulated
What repairs or replacements should be done to make your home more comfortable and help you save hundreds—or even more—on energy costs
For more information on Albany's Neighborhood Energy Challenge visit www.GreenCapitalRegion.org.